C.O.R.E. Banquet 06.2.12
On June 2nd 2012, C.O.R.E. gathered together for our annual banquet! A great time was had at Dematic.  We were excited to have our sponsor Dematic provide space for our banquet.  We dined on a spaghetti dinner brought by mentors and desserts provided by team members. We presented awards to both mentors and students, and said goodbye to our seniors who we've shared four great years with! Overall, a great time was had by all.
STEM for Girls 5.4.12
STEM for Girls is an event in which girls are introduced to careers involving Science, Technology, Engineering, and Mathematics. The venue for the event was Waukesha STEM Academy, Saratoga Campus. Girls in 6th-8th grade from all over the city were invited to the event. After an hour of free time to wander around and visit any booths that they pleased, each girl received a schedule that told them what three specialized booths to go to. There was a wide variety of choices ranging from tech advice to speakers in the STEM field. Girls were exposed to many aspects of STEM. This event was empowering and revolutionary in showing young ladies that they can succeed in careers related to STEM.
C.O.R.E. 2062's role in this affair was hosting one of the many booths. Girl's from all different subteams on C.O.R.E. talked about being a teenage girl and enjoying the fun of applying their skills to robotics. They discussed what it is like being on the robotics team and how to balance this and any other extracurriculars with the other aspects of high school. They also talked about how everyone has a place on the team, even if they are not interested in the actual robot.   CORE takes pride in having a balanced team with girls and boys taking active, valuable roles.
FIRST National Championship 4.27.12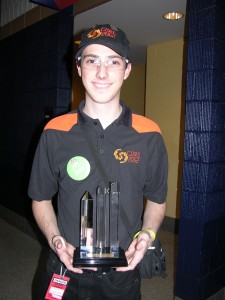 From April 27th to the 30th, C.O.R.E  2062 competed in  FIRST's National  Championship Competition!  In our Newton division there were one hundred teams.  Although we did not win Newton division we did place 25th.  One of the highlights of the event was when our robot scored 4 balls in autonomous!  It was exciting to watch the best teams compete on Einstein arena.  However, something much bigger happened. We won the Underwriters Laboratories International Safety Award! This means that we have the best safety program out of 400 teams! It was a fantastic experience for the entire team.  This was a memorable experience for the team.
GE Take your Child to Work Day 4.12.12
Several C.O.R.E. members attended take your child to work day at GE. We presented about FRC and we showed our animation. Parents and children played with VEX and FRC robots as well as looked at the set up of an FLL table. At the end of the day, several parents said that driving the robots was their favorite part of the event.
Rockwell Spaghetti Dinner 3.31.2012
Annually Rockwell has a spaghetti dinner fundraiser to support the United Performing Arts.  We are happy to provide an educational activity for their participants.  At this event, we make our robot available to drive for the adults and children to give them an experience with FIRST.  We also present the FIRST LEGO League level of robotics.  We partner with an FLL team that several of our students mentor.
The presence of Fll and FRC robotic teams at this event help highlight Rockwell's committment to the FIRST community.
  Wisconsin Regional 3.22.2012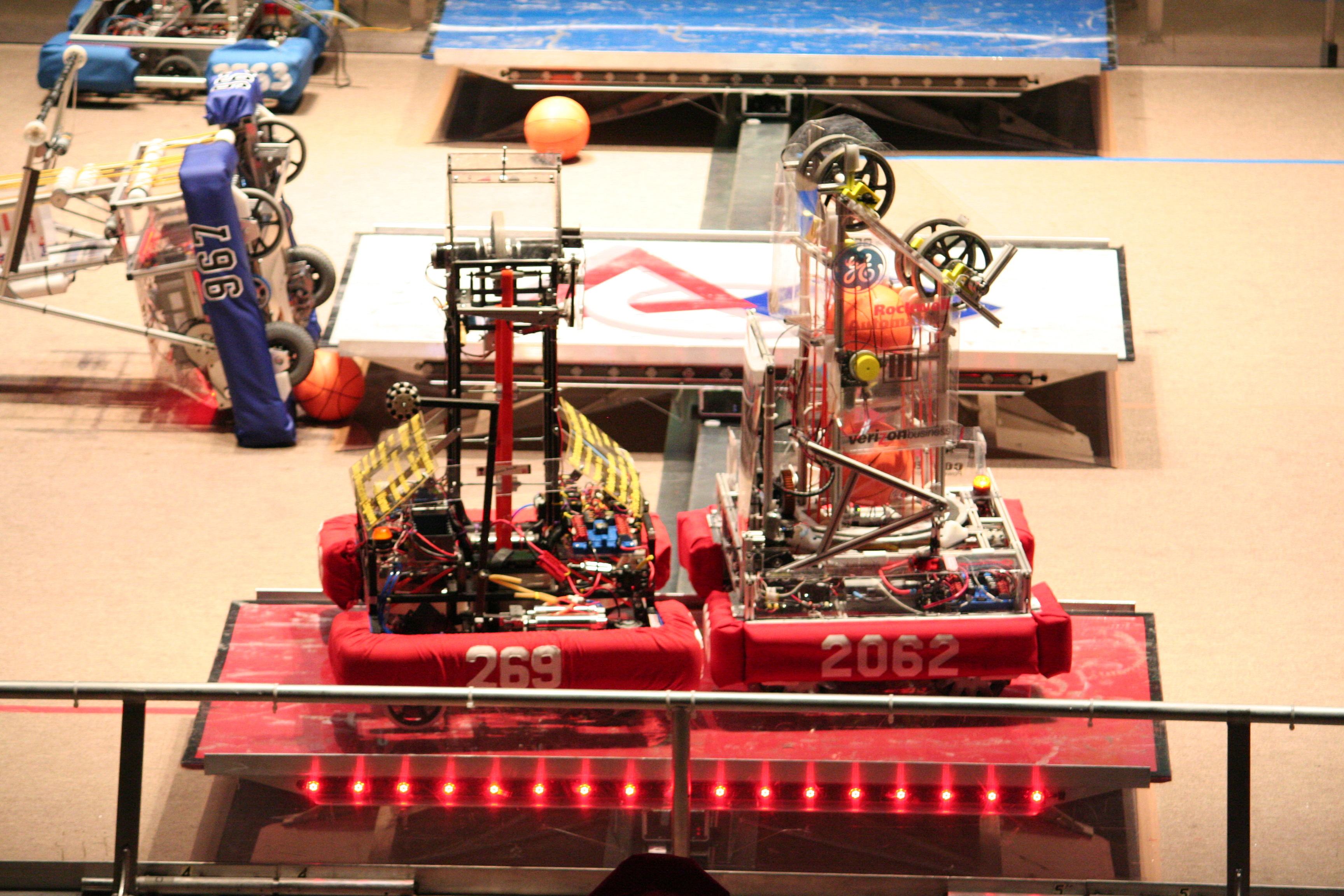 On March 22nd-24th, 2012, our team went to the Wisconsin Regional. We were the recipients of multiple awards. We also won the Gracious Professionalism™ Award, which is awarded to the team who represents FIRST in the most positive light. Another of the most prestigious awards, Dean's List,  is awarded to only two individual students. One of our mechanical subteam leaders, Annalyssa, is a Dean's List finalist. This award is presented to students who exemplify the ideals of FIRST. There was no better person to represent our team and FIRST than Annalyssa. In addition to that, we also placed in the top 3 for Safety and 10 other awards. In the actual competition itself, we were ranked 14th. We made it to the semifinals with our alliance that consisted of team 868, TechHOUNDS and team 2039, Rockford Robotics. In the semifinals, we lost in a terrific battle against team 48, Delphi E.L.I.T.E., team 2826, Wave Robotics, and team 269, CooneyTech. This alliance eventually went on to win the regional. The regional was not only fun, but a great learning experience for all of us, and we will use the knowledge we've gained to do even better at internationals!
 Project Lead the Way Conference 12.1.2011
On December 1, 2011, at the Project Lead the Way Conference at Country Springs in Waukesha, members Evan Gilganbach, Emma Krauska, Aaron May, Haley Bates, and Grant Wuerslin talked about their experiences in FIRST. This was an excellent way to meet teachers and encourage them to start a FIRST team. A few teachers are seriously considering starting a team and we will keep in contact with them to give them the support necessary.
FIRST LEGO League Tournament 11.19.2011
On November 19th, 2011, C.O.R.E. volunteered at the FIRST LEGO League competition at Marquette University High School. There, our team sold concessions to the young students. A couple of our members also helped out as referees and kept the crowds cheering as a master of ceremonies. It was exciting to see a full house rooting on a total of 34 competing teams. This competition was a major fundraising event for C.O.R.E.
FIRST LEGO League Tournament 11.12.2011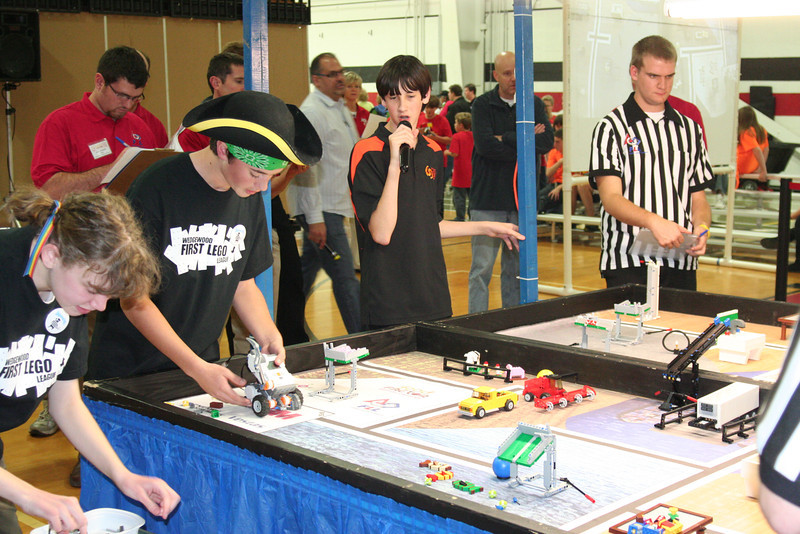 On Saturday, November 12th, C.O.R.E. hosted the FIRST LEGO League tournament at Waukesha South High School in the field house. Our team ran the event, provided volunteers, prepared concessions, and helped the event run smoothly. We queued the teams up for the competition fields and for going to talk to the judges. Some of the members of C.O.R.E. showed off the VEX robots to the younger kids to get them interested in continuing with FIRST and robotics related activities. All in all, the feedback C.O.R.E. received was positive. The kids were very enthusiastic to be able to work with the high schoolers. The field house was filled with cheers of joy as the programs worked and cries of despair as the parts on the robots broke. Parents sat in the stands and rooted on their favorite teams. There were thirty-three teams participating in the event.
VEX High School Tournament 11.5.2011
On November 5th, 2011, C.O.R.E. 2062 hosted a VEX Tournament for high school students at Waukesha West High School. This year's game is called Gateway (for more information, click here).
After getting the teams' robots weighed and measured, the competition finally started at about nine a.m. The gym was filled with excitement as people cheered on their favorite teams. Throughout the entire day, students were making quick fixes on their VEX robots due to the wear and tear of matches. The robots ranged from being very simple to complex. It was a day full of highs and lows as people won matches and robots broke and teams won awards. C.O.R.E. queued the teams for matchs and refereed. At the end of the day everyone was exhausted but happy with how the day went.
Vex League Nights Fall 2011
Every Tuesday in October, new C.O.R.E. members and middle school students gathered in South High School's cafeteria to build their VEX robots. With help from older members, the students assembled robots to perform a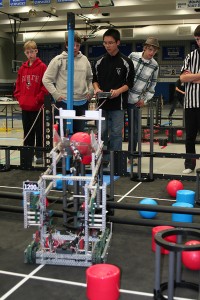 specific task, based on this year's game, Gateway:
VEX Gateway is played on a 12'x12' square field. Two alliances – one "red" and one "blue" – composed of two teams each, compete in matches consisting of a twenty-second autonomous period followed by two minutes of driver-controlled play. The object of the game is to attain a higher score than your opponent Alliance by Scoring Barrels and Balls in Goals, earning Bonus Points and Doubling or Negating Goals.
For the complete rules of the game, click here.
C.O.R.E. sold concessions and mentored the younger students, helping them to discover creative ways to complete the task. The nights were filled with highs and lows as robots broke but were able to be fixed once more. All in all, the feedback received was positive. Everybody involved had a lot of fun.
Wisconsin State Fair 2011
CORE was recently at the Wisconsin State Fair! On August 6-8 2012.  We helped with a multitude of events. On the first two days, four members helped run a LEGO Mindstorm/VEX competition as a part of a 4-H showcase. On the third day, eight members gave demonstrations of VEX,  LEGO, Parralax robots and of course our FRC robot. These members also gave a presentation about the 2012 build season and the FIRST robotics program. Our teams CORE's value of community, respect and  volunteering came through as we  assisted in other  demonstration booths.