Game Description:
Two teams of three robots each compete against each other on a field. They try to get tubes on pegs on the other side of the field. At the end of the game, they deploy little robots onto poles, trying to get up first. This year is the 20th anniversary of FRC, and also the first year with mini-bots.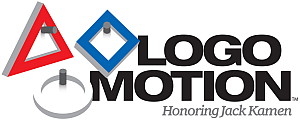 Official Game Rules
FIRST LOGOMOTION is played on 27 foot X 54 foot field. Two 3 team alliances (red & blue) compete to hang inflated plastic shapes, aka Logo pieces (triangles, circles, and squares), on their scoring grids. The game starts with a 15 second autonomous period in which teams attempt to hang yellow tubes (Übertubes) on their scoring pegs. Teleoperated (driver control) starts and teams race across the field to one of the four feeder stations. A human player known as the feeder either pushes a Logo piece through the feeding slot or throws them over the alliance wall. Robots then hang these on their alliances scoring grid. Any logo piece hung on the same peg as an Übertube receives double points. If teams assemble the logo pieces on their scoring grids to form the FIRST® logo (triangle, circle, square, in a horizontal row in that order), the points for the entire row are doubled.
The match ends with robots deploying minibots, small electro-mechanical assemblies that are independent of the host robot, onto vertical poles. The minibots race to the top of the pole to trigger a sensor and earn additional bonus. After two minutes and 15 seconds of total game play the round ends and the score is totaled up.
For more info on LOGOMOTION, click here and the game animation, click here.
Our Robot
Specifications:
Height 59.75 in, Width 27.5 in, Length 37.5 in
Weight 115 lbs.
Speed 11.11 ft/s
Drive Train:
Lift:
Two Banebot motors
Gear ratio of 64:1
Three stages
Uses item sliders
Extends to 101 in
Lifts from ground to top in 2.4 seconds
Limit switches are on the top and the bottom three stages (Main mast, Intermediate, Shuttle)
Actuator:
Double Polycord Conveyor system
Two Window motors (direct)
Turns tubes 180° for easy hanging in under 2 seconds
Great mobility and reliability
General Description
Our robot, named Daedalus, is designed to be fast, maneuverable and resilient. Our team decided on a gear ratio to give us maximum speed while retaining a balance of torque to score the maximum number of points. We have a Mecanum drive system to strafe and move as easily as possible. In autonomous mode, we line track to hang the übertubes. During teleoperated period, Daedalus hangs tubes with great accuracy due to our camera system. By turning the tubes up or down, we increase this accuracy and the ability to score on all pegs successfully. In order to be as resilient as possible, we used a gyro to keep the robot oriented during a rough match. We have made our robot as durable as possible and used a gear box integrated into our frame to protect it during competitions.
Competitions
2011 Wisconsin Regional
Where: US Cellular Arena
When: March 10 – March 12, 2011
Regional Website: http://www.wisconsinregional.com/
From March 10th to 12th we participated in the Wisconsin Regional Competition, held in the US Cellular Arena. In all, there were 53 teams.
We ended qualification rounds at 4th place. For our alliance we chose Teams 930: Mukwonago B.E.A.R.s and 1714: MORE Robotics, but 930 ended up getting replaced with Team 2506: Saber Robotics. In quarter-finals, our alliance lost one round and lost the next: 0 to 31. Our team earned the Website Award.
[Slideshow=67]
2011 10,000 Lakes Regional
Where: Williams Arena, Minneapolis
When: March 31 – April 2, 2011
Regional Website: http://www.mnfirstregional.org/
From March 31st to April 2nd we participated in the 10,000 Lakes Regional Competition, held in the Williams Arena on the University of Minnesota-Minneapolis Campus. We learned from our experiences at the Wisconsin Regional to better our team and our robot. Between the two regionals we developed a new minibot and minibot deployment system. We also continued to improve our autonomous code to consistently hang an Übertube.
We ended qualification rounds at 6th place from a group of 63 teams. For our alliance we chose Teams 2232: Deus ex Machina and 2545: Quantum Mechanics. In quarter-finals, our alliance lost one round and won the next; in the determining round, our alliance lost: 72 to 89. Our team earned both Rockwell Automation's Innovation in Control Award and UL's Industrial Safety Award. Safety in C.O.R.E. is more than a concept or idea–it is a culture. Our members distributed safety manuals and gave safety presentations at the 10,000 Lakes and North Star Regionals.