It's already the second event of the off-season and we're doing great! Our first event we participated in the MPTV Auction last Saturday. Many of us volunteered to help answer phones and submit bids, while some of us went on TV and showed off item for sale.  It was super fun and we can't wait to do it again next year!
Today we showed off our 2014 robot Hermes and this year's robot Gaia at the annual STEM For Girls event. STEM For Girls brings in elementary and middle school girls who are interested in the STEM field and allows them to further explore their interests through demonstrations. CORE 2062 was a main attraction as we demonstrated our Hermes robot from last year.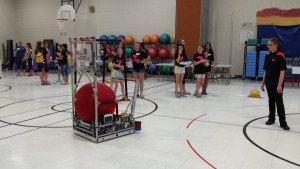 We hope to do STEM For Girls again next year to get girls and new members interested in joining FRC and other FIRST programs.