VEX High School & Middle School Tournament 11.3.2013 & 11.4.2013
On November 3rd , 2013, C.O.R.E. 2062 hosted a VEX Tournament for high school students at Waukesha West High School. This year's game is called Toss Up.
 After getting the teams' robots weighed and measured, the competition finally started at about nine a.m. The gym was filled with excitement as people cheered on their favorite teams. Throughout the entire day, students were making quick fixes on their VEX robots due to the wear and tear of matches. The robots ranged from being very simple to complex. It was a day full of highs and lows as people won matches and robots broke and teams won awards. C.O.R.E. queued the teams for matchs and refereed. At the end of the day everyone was exhausted but happy with how the day went.
Vex League Nights Fall 2013
Every Tuesday in October, new C.O.R.E. members and middle school students gathered in South High School's cafeteria to build their VEX robots. With help from older members, the students assembled robots to perform a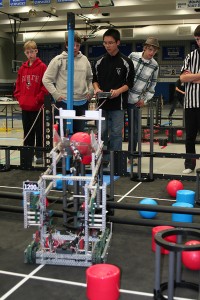 specific task, based on this year's game, Toss Up:
VEX Toss Up is played on a 12'x12' square field configured as seen above. Two alliances – one "red" and one "blue" – composed of two teams each, compete in matches consisting of a fifteen second autonomous period followed by one minute and forty-five seconds of driver-controlled play.
The object of the game is to attain a higher score than the opposing Alliance by Scoring your colored BuckyBalls and Large Balls into the Middle Zone and Goal Zone, by Stashing your colored BuckyBalls and Large Balls into the Goals, and by Hanging or Hanging With A Ball, at various heights, off your colored Bar at the end of the match.
There are a total of twenty (20) BuckyBalls and eight (8) Large Balls available as Scoring Objects in the game. Most Scoring Objects begin in designated locations on the field, while some are available to be loaded prior to the Match.
C.O.R.E. sold concessions and mentored the younger students, helping them to discover creative ways to complete the task. The nights were filled with highs and lows as robots broke but were able to be fixed once more. All in all, the feedback received was positive. Everybody involved had a lot of fun.
Waukesha State Fair 08.01.13 – 08.03.13
C.O.R.E. was recently at the Wisconsin State Fair! On August 1-3, we helped with a multitude of events. On the first two days, some members helped run a Robo Rally as a part of 4-H. On the third day, over five members gave demonstrations of VEX, FRC, and LEGO robots. These members also gave a presentation about the build season and FIRST in general. C.O.R.E.'s values came through as we also assisted in other peoples booths.
Waukesha County Fair 07.17.13 – 07.21.13
C.O.R.E. recently attended the Waukesha County Fair! On July 17th and 21st,  we took over 10 members to the Waukesha County Fair.  Our team members presented information about FIRST programs and other robotic programs to a wide audience. We demonstrated our FRC robot at the fair and let fair-goers drive our VEX robots around in addition to FLL and FRC robots as well.  Our students took what they learned about FIRST at the meetings and spread the word to our community.  Students were surprised and overwhelmed that so many kids have never even  seen a robot.  It was a joy to see the kids drive the little FLL and Vex robots and then awesome to see their jaws drop when they saw the FRC robot.