Game Description:
RECYCLE RUSHSM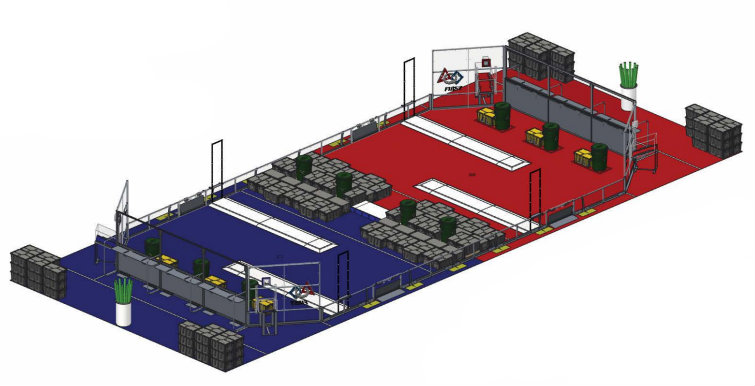 Official Game Rules
RECYCLE RUSH is a recycling-themed game designed for the 2015 FIRST Robotics Competition (FRC). It is played by two Alliances of three teams each. Alliances compete simultaneously to score points by stacking Totes on Scoring Platforms, capping those stacks with Recycling Containers, and properly disposing of Litter, represented by pool noodles, in designated locations. In keeping with the recycling theme of the game, all scoring elements used are reusable or recyclable by teams in their home locations or by FIRST at the end of the season.
The 27 ft. by 54 ft. playing Field is bisected by a small Step which may not be climbed on or crossed by Robots. Thus each Alliance competes on their respective 26 ft. by 27 ft. side of the Field.
Each RECYCLE RUSH Match begins with a 15-second Autonomous Period in which Robots operate independently of their drivers. During this period, Robots attempt to move themselves, their Yellow Totes, and their Recycling Containers into the area between the scoring platforms, called the Auto Zone. Additional points are awarded if the Yellow Totes are arranged in a single stack.
Auto Point Values:
Robot Set – Value: 4
Tote Set – Value: 6
Container Set – Value: 8
Stacked Tote Set – Value: 20
Our Robot
General Robot
Gaia, our robot, was beautifully designed with reliability in mind. Our passion for consistence drove us to design a passive fork system for picking up totes. Coupled with a powerful chain-driven lift, this system is able to pick up a stack of six totes with a recycling container. Photoeyes have advanced this capability, allowing for almost completely autonomous tote alignment. Gaia is also equipped with a mechanism for punching recycling containers out of the way for a three tote autonomous. CORE is proud of Gaia, one of the most robust and advanced robot we have ever created.
Basic Abilities
Autonomous
Up to 3 tote stack autonomous

Alternate programs to work with other robots

Align automatically with photoeyes
Tele-op
Stack six totes w/sideways recycling container in 40 seconds
Pick up totes anywhere along forks for Coopertition points
Pick up totes from feeder station and landfill

Totes' longer side parallel to forks
Place recycle container on top of four stack
Specifications
General specs:
Height: 75 in
Weight: 118 lbs
Width: 40 in
Depth: 27.5in  / 33.5in
Frame
Aluminum Versa chassis
Expands 6"
10 inch recess
Drive system
6" VexPro mecanum wheels
Mecanum drive for maneuverability
10.75:1 toughbox nano gear boxes
Top speed of 12 ft/s
Forks
Passive forks go over lip of tote
Hinged rails w/ teeth catch under tote lip
Plastic wedges under fork teeth used for tote alignment
Hooks on front of fork for landfill
Lift
40:1 Versa Planetary gearbox
35 chain
Programming
Gyro for drive correction
Photo Eyes used for robot centering on totes
Lift controlled by an encoder for preset heights and autonomous
Container Bump
Bumps containers out of the way
Complex joint system
Actuated by pneumatic cylinder
Competitions
2015 FIRST Championship
Where: America's Center, 701 Convention Plaza, St. Louis, MO 63101
When: April 22 – 25
Championship Website: http://www.usfirst.org/roboticsprograms/frc/championship-event
From April 22nd to the 25th, the Championship competition will be held in St. Louis, Missouri. There, teams will compete to see who is the best of the best.
2015 Midwest Regional
Where: UIC Pavilion Chicago, 525 S Racine Ave, Chicago, IL 60607
When: April 1 – April 4
Regional Website: http://www.ilfirst.org/frc/events/midwest-regional.html 
From April 1st to April 4th CORE will to be going to the UIC Pavilion in Chicago, Illinois to compete in the Midwest Regional.
2015 Wisconsin Regional
Where: UWM Panther Arena, 400 W. Kilbourn Ave, Milwaukee
When: March 19 – March 21
Regional Website: http://www.wisconsinregional.com/ 
From March 19th to March 21st CORE will to be going to the UWM Panther Arena in Milwaukee, Wisconsin to compete in the Wisconsin Regional.