We now have 31 days to Ship Date, when our robot will be shipped to competition! We are facing the exciting challenge to pick up and place inner tubes on racks. At the end of the match, our robot deploys a Mini-bot to race to the top of a tower for bonus points. For more information on the game, click here.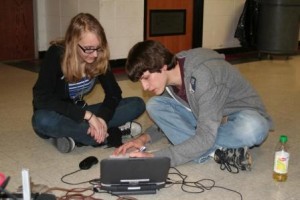 The chassis subteam created parts on the CNC router and is now assembling the frame. The lift actuator subteam is in a similar place, finalizing design and beginning assembly. Close behind is the actuator subteam; after finishing the prototype, they are now beginning to test. Still in the designing and prototyping stages, the mini-bot subteam is working steadily. Our CAD subteam is assisting all of these subteams in the design process through drawings and finite element analysis. They have also finished creating the pieces for the chassis. They will be submitting the modeled robot at competition. The programming subteam is preparing for the robot, working on line tracking and vision programs.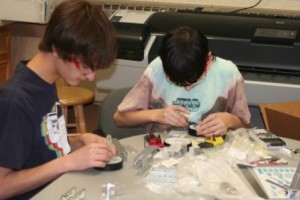 The animation subteam is doing very well. The challenge this year is to change the world of another planet's intelligent life, called iikos, who are facing an environmental catastrophe. The animation subteam now has a perfected storyboard, and is finalizing models and beginning animating, all well in advance of Crunch Week! To read more, visit FIRST's website by clicking here. Our website subteam is still editing content and fixing errors. The Chairman's Award/public relations subteam is finalizing the outline, beginning the Executive Summary and collecting testimonials for the essay.
Click here to download a pdf version of this post.