After a three month hiatus, we're back in the swing of things! School has started up and so has robotics season.
One of our summer activities was Adopt a Highway. We now clean Highway 59 from CTH "X" (South) to STH 164 WB. Going forward we are going to go out once a month and clean this highway.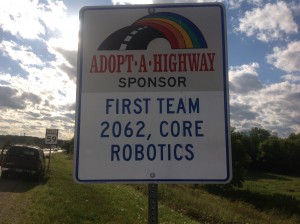 Another activity we did was the Les Paul 100th Anniversary celebration. We set up our tent and demonstrated Aether from 2013 and Gaia from 2015. Earlier in the summer we also attended the county fair where we demonstrated these robots as well.