Every Tuesday in October, new C.O.R.E. members and middle school students gathered in South High School's cafeteria to build their VEX robots. With help from older members, the students assembled robots to perform a specific task, based on this year's game, Gateway:
VEX Gateway is played on a 12'x12' square field. Two alliances – one "red" and one "blue" – composed of two teams each, compete in matches consisting of a twenty-second autonomous period followed by two minutes of driver-controlled play. The object of the game is to attain a higher score than your opponent Alliance by Scoring Barrels and Balls in Goals, earning Bonus Points and Doubling or Negating Goals.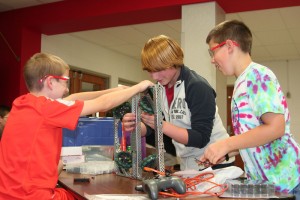 For the complete rules of the game, click here.
C.O.R.E. sold concessions  and mentored the younger students, helping them to discover creative ways to complete the task. The nights were filled with highs and lows as robots broke but were able to be fixed once more. All in all, the feedback received was positive. Everybody involved had a lot of fun.